Sunrise Festivals: Another World and Off Grid
---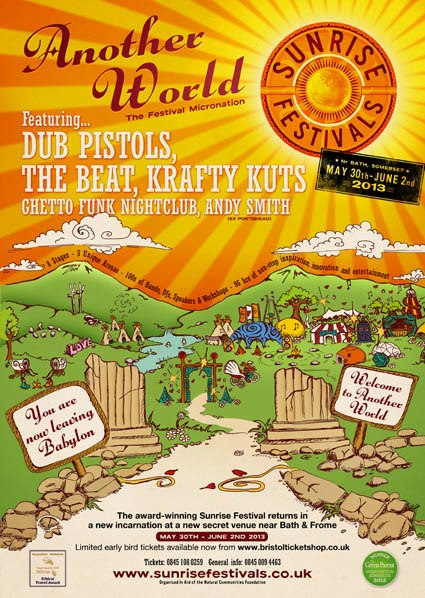 ---
---
Sunrise: Another World Festival in Somerset is the UK's leading Sustainable Education, Arts and Music Festival. Everything that happens in the planning and delivery of Sunrise aims to achieve best possible practice in terms of ethics and environment. In 2012 the festival was rewarded with the "A Greener festival Award" and "The Green Parent – Green Festival Award".
On their homepage the organizers state: "Our aim is to walk the talk, and be a forum for this generation of social and environmental solutions, as well as being a vibrant, dynamic, foot-stompingly fantastic medley of music and joy.
 We believe we have the most comprehensive green policy and strategy of all music festivals in the UK, and we aim to keep Sunrise in the front line of the debate.
The festivals are a platform where ideas can be raised and discussed in a non-dogmatic and inspirational fashion, whether this be water-powered cars or free energy, Transition Towns or freedom of health. Exchanging ideas and inspiring each other, we can really make a difference as well as taking home practical information on how to minimise our impact on the planet and live an empowered, sustainable existence.The values of Sunrise are reflected in those of our micronation, whose constitution will embody principles of environmental sustainability, ecological protection and preservation and low impact living."
Numerous initiatives make Sunrise a truly green and sustainable festival:
– creation of a site-wide power system, all energy from renewable sources
– a full cycle-powered stage, a cycle-powered mobile cinema, phone charging points etc.
– free spring water and refillable plastic bottles
– several initiatives of reusing, recycling, upcycling and reducing waste
– cycling facilities and services to increase the number of people traveling to the site by bicycle
– alternative transport by horse carts, rickshaws, fancy dress bike rides etc.
– workshops in alternative technologies, traditional crafts and skills
– all food is organic and local, all packaging is compostable
– compost toilets
– wildlife impact-map
and many more…
The next Sunrise: Another World Festival will take place May 30th – June 2nd 2013, for more information see http://www.sunrisefestivals.co.uk/ and on our Best Practise-page.
Sunrise: Off Grid is the smaller sister project: an event focused  on community networking, skills sharing and activism for those who are already committed to being the change, and those that wish to be part of it. In 2013 the event is to be held from 15th-18th of August and its webpage with further information can be found here: www.sunrise-offgrid.co.uk
(Parts of the text and pictures taken from the website of Sunrise Festivals: http://www.sunrisefestivals.co.uk/)