GMI @ Berlin Music Week 2012
---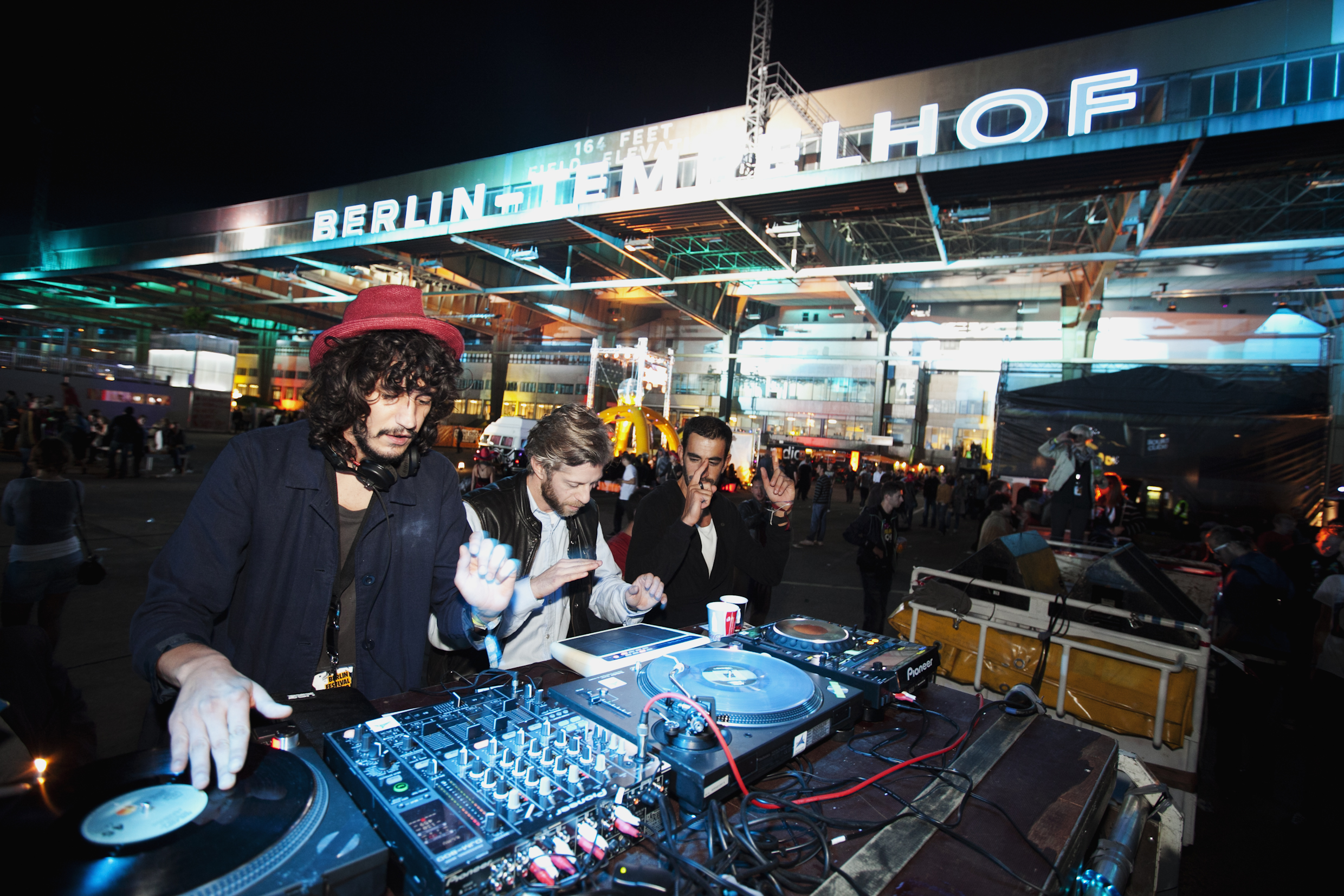 ---
---
Green Berlin Music Week
Programme:
Green Music Soirée
Tuesday, 04.09.2012
18:00 – 22:00 h, Katz Orange
The Green Music Dinner finally returned to Berlin as Green Music Soirée!
After holding very inspiring and successful Green Music Dinners in Hamburg, in Cologne in the context of the c/o pop and already two times at the Melt! Festival, the upcoming Green Music Soirée took place on the eve of the Berlin Music Week.
On the 4th of September selected international and national representatives of the music scene, science, politics, NGOs and environmental associations came together to collaboratively generate new and innovative ideas on how to run their operations smarter & greener. Keynotes and input statements offered a variety of topics for rich and lively discussions during the Green Music Soirée.
Speakers included:
Jacob Bilabel, Green Music Initiative
Björn Döring, Berlin Music Week
Sybil Franke, Velomax/ Max-Schmeling Halle
René Mono, 100 prozent erneuerbar stiftung
Angelika Pullen, WindMade
Harald Welzer, FUTURZWEI Stiftung Zukunftsfähigkeit
The past dinners have shown that especially the intersectoral exchange added value to the innovation processes. Multiple projects were developed during the past dinners that could already be implemented such as the Green Club Index, Morgenwelt Fahrraddisko, The Electric Hotel and the GO Group. All of these projects are nationally and internationally considered as guiding examples for a music, event and entertainment industry that naturally integrates sustainability in all its operations.
We look forward to hear more about the new ideas and innovations that arose during the inspiring Green Music Soirée in the beautiful ambiance of the Katz Orange restaurant in Berlin Mitte.
All pictures: The Green Music Soirée companion:
Further information about the Green Music Soirée
here
.
________________________________________________________________________
Greener Arena Index: perspectives and challenges for a greener arena
Panel discussion
Wednesday, 05.09.2012
12:30 – 13:30 h, Spreespeicher
To set an example in climate protection the Green Music Initiative supports clubs to reduce their energy usage since 2011 with the Green Club Index project. These activities will now also be translated to arenas and other large venues within the Greener Arena Index project.
But what are actually smart energy reduction measures to take in regard to major venues?
And what potential do they have in terms of reducing greenhouse gases and costs?
Those and many other questions will be discussed during a panel on the 5th of September 2012 at 12.30h in the Spreespeicher in Berlin. The panel is part of the Word on Sound conference program of the Berlin Music Week.
Speakers include:
If you like to participate, please contact:
Roman Dashuber
dashube(at)thema1.de
or via phone:
+ 49 30 779 0 779 12
www.greenclubindex.de
________________________________________________________________________
Sunplugged Stage & "Walkable Energiewende" on Ferropolis – Presentation of the Zukunftswerkstatt Ferropolis Project
Thursday, 06.09.2012
14:00 – 17:00 h, Landesvertretung Sachsen-Anhalt/ Representation of Saxony-Anhalt
Turning festival site Ferropolis into a "walkable Energiewende"
The installation of a 3000 m2 solar roof was the first step on the way towards a renewable future of the festival site Ferropolis, which is known for its impressive scenery of massive excavators; the remains from the site's original purpose as open cast coal mine.
Ferropolis and the Green Music Initiative strive to turn the site into a "walkable Energiewende". They invited a broad range of experts to two workshops on energy and tourism to share their experience and ideas on how such a vision could be implemented. The participants confirmed the peninsula's unique potential to become a showcase of futuristic renewable energy systems, a 'walkable Energiewende'. As a result, a sunplugged stage, running on on-site generated renewable energy only, will be launched at next year's Melt! Festival.
Further outcomes of the two workshops will be presented in Berlin on 6 September 2012. National and international representatives of politics and the music industry will be introduced to this promising project at a reception in the representation of Saxony-Anhalt.
With contributions by:
Dr. Michael Schneider, State Secretary for Federal and European Affairs at the Permanent Representation of Saxony-Anhalt with the German Government
Thies Schröder, Managing Director Ferropolis
Jacob Bilabel, Founder Green Music Initiative
Matthias Hörstmann, Managing Direcor HUG (Melt!, Splash!, Berlin Festival, Intro, …)
Katrin Hall, Live Management Modeselektor
Prof. Dr. Rolf Budde, Chairman Tourism Region Anhalt-Dessau-Wittenberg / Buddemusic
Jörg Gehler, Q-Cells
"Walkable Energiewende" on Ferropolis  – Presentation of the visionary project of a festival site
Further information: http://www.greenmusicinitiative.de/projects/zukunftswerkstatt-ferropolis/
________________________________________________________________________
Green Music Award @ Clean Tech Media Awards
Friday, 07.09.2012
19:00 – 23:00 h, Tempodrom
On a yearly basis the Green Music Initiative gives out the Green Music Award for outstanding achievements in making the music and entertainment industry more climate friendly. Artists, organisations or innovative ideas are awarded, who successfully implemented strategies that contribute to CO2 reduction in an exemplary way.
By invitation only!