Green Music BBQ @ c/o pop 2013
---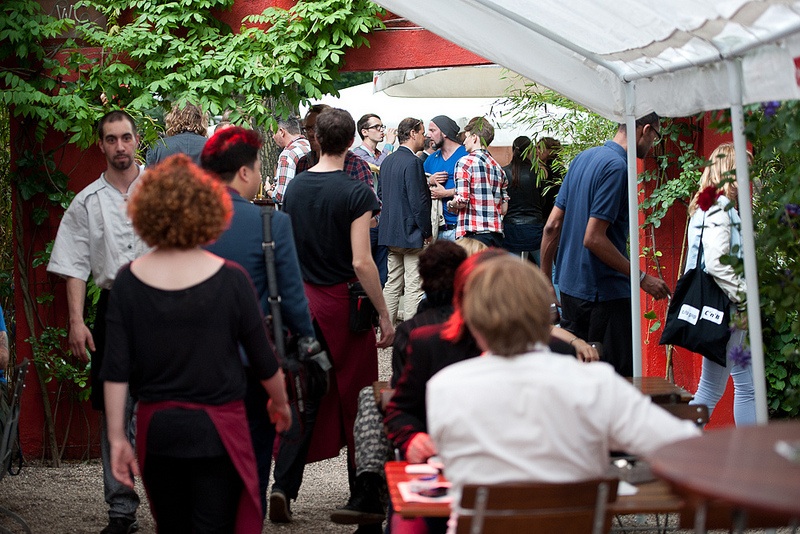 ---
---
Green Music BBQ
Thursday, 20 June 2013, 18 :30 – 21:30, c/o pop,  Stadtgarten / Al Bosco, Cologne, Germany
By invitation only! 
Climate change is one of the biggest challenges of the 21st century. Adjustments need to be made in all areas of life. Through exemplary actions, relevant actors can function as role models for the implementation of vital climate-protection measures. The music and entertainment industry has a unique opportunity – through positive examples and practical solutions – to guide society towards a more climate-friendly future.
First experiences show that the music industry can also benefit from this itself.
Within the pilot project Green Club Index (GCI) 6 Clubs in North Rhine-Westphalia managed to lower their electricity consumption tremendously (up to 50%) with the help of the Green Music Initiative (GMI) and the EnergieAgentur.NRW. This helped not only to reduce the environmental impact of the clubs but also to realise big cost savings. Currently further regional GCI projects are conducted (Mannheim, Frankfurt, Dortmund, Stuttgart) and several others are about to start within the next months (Hamburg, Berlin, Switzerland). GMI and the EnergyAgency.NRW are regularly offering green club training workshops for energy consultants and a data base of consultants specialiced in energy audits for the club scene can be found on the homepage of the Green Club Index.
At this year's Green Music BBQ we want to discuss with you and representatives of politics, environmental associations, the club scene, promoters and djs how a climate-friendly club of the future could look like – in a relaxed atmosphere with BBQ and Kölsch.
Furthermore some clubs of the GCI pilot projects in NRW, Mannheim and Frankfurt will be awarded with the Green Club Label at the Green Music BBQ.
The Green Club Label has been launched by GMI and the EnergyAgency.NRW in the beginning of 2013 and is given to clubs that make an effort in raising their energy efficiency and minimising their emissions.
Contributions by
Jacob Bilabel | Founder, Green Music Initiative
Lothar Schneider | Managing Director, EnergyAgency.NRW
Norbert Oberhaus | Managing Director, c/o pop
Sebastian Dresel | Mannheim Economic Support Department
The Highlightfilm of the Green Music BBQ 2012:
Green Music BBQ 21 June 2012 | c/o pop, Cologne from Thema 1 on Vimeo.
Photos of the Green Music BBQ 2012:
To facilitate networking we will again publish a Companion Magazine, including short CVs and picture of the participants. To give you an idea of what it looks like, have a look at last year's Green Music BBQ companion:
For further information please do not hesitate to contact Roman Dashuber at GMI | THEMA1.
Find a full documentation of the previous Green Music Dinners on http://www.greenmusicinitiative.de/events/die-green-music-dinner/green-music-dinner/