Green Music BBQ 2014 // EE MUSIC Launch Germany
---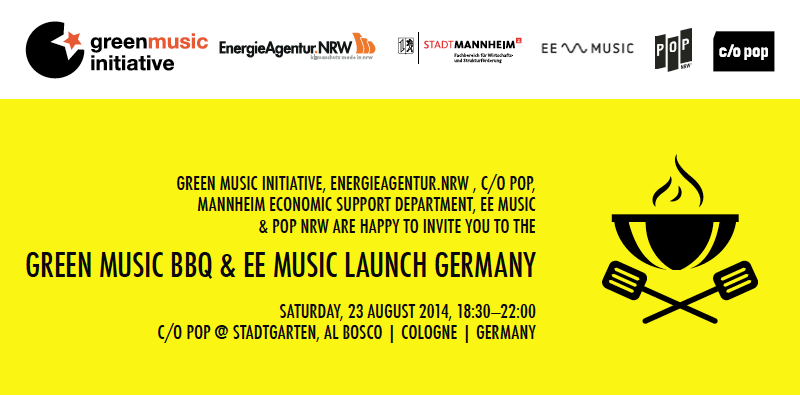 ---
---
Green Music BBQ 2014

Saturday, 23 August 2014, 18 :30 – 22:00, c/o pop, Stadtgarten / Al Bosco, Cologne, Germany
This year we will already be celebrating the third edition of the Green Music BBQ as part of the wonderful c/o pop festival. We are again expecting more than 120 high-ranking representatives from music, politics, science, media and environmental associations. Together we want to discuss how the music and entertainment industry can guide society – through positive examples and practical solutions – towards a more climate-friendly future.
In addition to a networking opportunity in a relaxed atmosphere we have three main points on our agenda:
Official Launch of the European EE MUSIC Project in Germany
EE MUSIC– Energy Efficient Music Culture is the largest energy awareness campaign in the history of the European music event industry with activites in 27 countries. We will explain the objectives and instruments of this outstanding project.
Green Pictures Group & Greener Arena Network
Two newly established networks try to tackle green issues in the film industry and in large venues like stadia and arenas. We will update you on the latest developments.
2nd Award Ceremony – Green Club Label
Moreover the Green Club Label will be awarded for the second time to pioneering clubs from Germany and abroad.
With contributions by:
Jacob Bilabel | Founder, Green Music Initiative
Janina Klabes | Chief Executive, Clustermanagement Musikwirtschaft Mannheim & Region
Lothar Schneider | Managing Director, EnergieAgentur.NRW
Norbert Oberhaus | Managing Director, c/o pop
Alison Tickell | Chief Executive, Julie's Bicycle (tbc)
Martha Bissmann | Programm Coordinator of EE Music, WIP – Renewable Energies
The Green Music BBQ is a invitation-only network event. Nevertheless if you really really really would like to attend and you haven't been invited, please send an email to Roman Dashuber at: dashuber@thema1.de
The Highlightfilm of Green Music BBQ 2012:

Green Music BBQ 21 June 2012 | c/o pop, Cologne from Thema 1 on Vimeo.
Video statements from participants from last Green Music Dinners can be found here.
Links:
EE Music
EnergieAgentur.NRW
c/o pop Festival
Mannheim Economic Support Departement
Clustermanagement Musikwirtschaft Mannheim & Region
pop NRW
Green Club Label
Green Club Index