---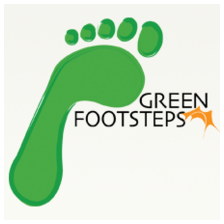 ---
---
The Roskilde Festival in Denmark is the largest North European culture and music festival and has existed since 1971.
Green Footsteps is Roskilde Festival's environmental campaign that gives the audience the opportunity to choose a more eco-friendly life and festival style.
In recent years, Green Footsteps has been a highly profiled initiative at Roskilde Festival. This year it will become an even more integrated part of the festival experience. Green Footsteps can be found all over the entire festival area.
Small actions with great impact

The campaign encourages the festival guests to act with consideration for the environment by taking Green Footsteps before, during and after the festival. The overall idea is that individual actions have great significance when taking care of the environment.
Eco-friendly initiatives

During the festival we are preparing a long line of initiatives. For instance you can stay in one of the eco-friendly green camps, ride a bike to charge your phone, listen to music and buy food from our sustainable zone by Odeon.
A step towards a greener festival future

We believe that each eco-friendly action has great impact on the environment – this is what we call Green Footsteps.
We believe that if we and our audience each take Green Footsteps in an eco-friendly direction, together we can make a difference.