ADE Green 2016: Meaningful Solutions for our future.
---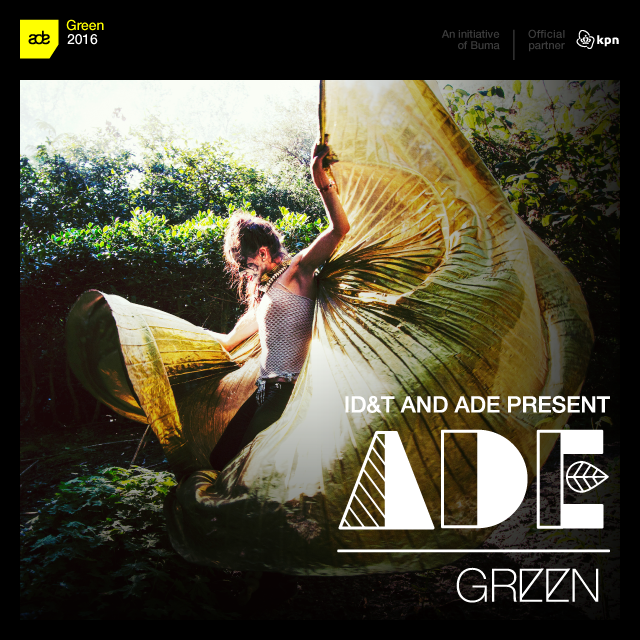 ---
---
Meaningful solutions for the future. ADE Green 2016
ADE Green 2016
Meaningful Solutions for our Future.
October 19 @ Amsterdam Dance Event
De Brakke Grond | Nes 45, Amsterdam
How to green your festival?
How to build the most impressive but still sustainable main stage?
How can you reuse all the urine and feaces to produce power, plants and good spirits?
How does music help in the healing processes and people's well being?
How to reduce your environmental footprint through your event's food policy?
How do you leave a positive impact with your festival's local community after the event?
I want to be sustainable, how do I start?
And: How to let go of the world and love all the things climate can't change…
All these questions and more will be answered at ADE Green 2016.
ADE Green is a collaboration between ID&T and ADE, supported by Green Events Nederland, Green Music Initiative, Julie's Bicycle and Open-House.
These Festivals will share their experiences with you:
Tomorrowland (BE) / Shambala (UK) / Boom Festival (PT) / Roskilde (DK) / Into the great white open (NL) / Welcome to the Future (NL) / Ieper Hardcore Fest (BE) / DGTL (NL) / Mysteryland (NL)
The Lineup so far:
Screening "How to Let Go of the World and Love All The Things Climate Can't Change" – Director Josh Fox (Gasland) (US)
Workshop Green Event Management –  Ben Eddie (A Greener Festival, UK)
A Radical's View of Climate Change –  Josh Fox (US)
Green Deal Presents Waste Free Festivals – Tijl Coulzy (Into the Great Wide Open, NL) / Paul Schurink (Green Deal, NL) / Lyke Poortvliet (Mysteryland, NL)
Happy Belly, Happy Planet – The Truth Behind Food Choices – Carina Kornfeind (Welcome to the Future, NL) / Babette Porcelijn (Studio Babette Porcelijn, NL) / Linda Vermaat (Twentie Four, NL)
Community Spirit – Christiana Bilde (Roskilde, DK) / Paul Brouwer (Mysteryland, NL) / Tijl Couzy (Into The Great Wide Open, NL) / Ynzo van Zanten (Tony's Chocelonely & Greeninc, NL)
Poop is Gold – Tania V. Fernandes (NIOO-KNAW, NL) / Stephan La Haye (NL) / Tomas Skyora (Schoonship, NL)
Music as Medicine – Marianne van der Heijden (Erasmus University, NL)
Workshop Sustainable Mainstage – Emellie O'Brien (Earth Angel, US) / Lyke Poortvliet (ID&T, NL)
Dance for a Better World -Dave Clarke (GB) / Shailendra (1000 Gueslist, IN)
Open-House Presents: Festivals as a Testing Ground – Michel Becks (Red Cross, NL) / Jeroen van Erp (Delft University, NL) / Jan Portheine (KarTent, NL) / Greg Richards (NHTV Breda & Tilburg University, NL)
'A Greener Festival' Dutch Award Ceremony – Teresa Moore (A Greener Festival, GB) / Ben Eddie (A Greener Festival, GB)
And some special guests to be announced over the next weeks…
Full programme here
Tickets for ADE Green (€ 35,-) are available here. The event is also accessible for 1- & 5- day conference ticketholders. The in depth workshops need special registration. As usual: full is full.
Looking forward to meeting you there
Jacob Bilabel / Green Music Initiative

[wpdevart_like_box profile_id="189270324464955″ connections="show" width="300″ height="200″ header="small" cover_photo="show" locale="en_US"]