5th International GO Group Workshop
---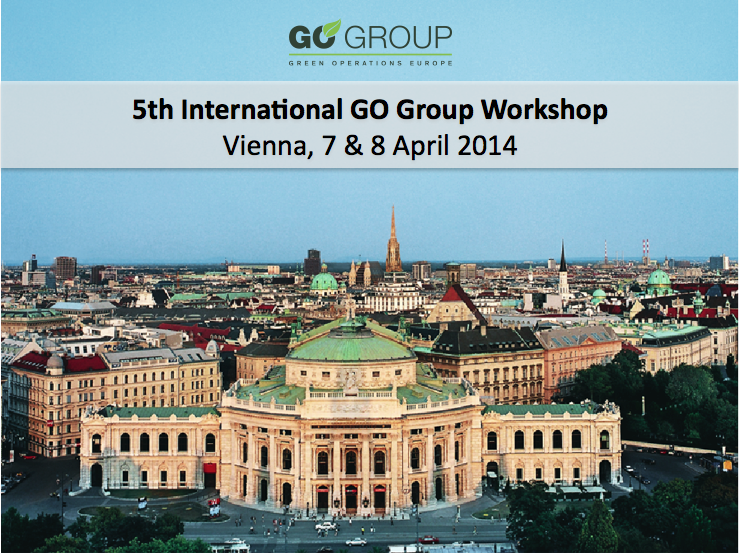 ---
---
Greener, smarter, more sustainable – the GO Group motto is spreading all across the European events industry and we have more and more followers of the green events philosophy. Festivals from all over the continent have taken the lead on this journey and spearheaded the movement, but there still is a long way to go. The last, very successful international GO Group workshop in Paris showed once more that  this type of interactive, open and communicative format fosters the exchange, cooperation and inspiration between event organizers, suppliers and science.
Now it's time for the 5th international GO Group workshop in Vienna. We kindly invite you to this 2-day seminar at the Umweltbundesamt (Federal Environmental Agency), on 7th and 8th of April 2014. The workshop is kindly hosted by Beatpatrol Festival and Jump (Jugend-Umwelt-Plattform).
You can register at the Bucks University online store. There's a special offer for Yourope members. Please note that the workshop capacity is limited!
This GO Group workshop for Sustainable Festivals and Events will focus on "challenges & solutions" (day 1) and "communication & audience involvement" (day 2). Presentations, discussions and case studies from experts and major European festivals will highlight new perspectives and will be combined with group work and discussions on both days.
Programme
Speakers:
Andrej Balaz, Charged Mind (SLV)
Jacob Bilabel, Green Music Initiative (GER)
Hugh Dutton, Hugh Dutton Associés Paris(UK/FRA)
Manuel Großmann, Service Design Berlin (GER)
Josef Hackl, Umweltbundesamt (A)
Felix Heckl, Umweltbundesamt (A)
Harry Jenner, Musicnet (A)
Dr. Karl Kienzl,Umweltbundesamt (A)
Claudia Kinzl, JUMP – young environmental platform (A)
Hendrik Landwehr, Charged Mind, Mach Dich Bunt (GER)
Teresa Moore, Bucks New University (UK)
Angelika Rainer, JUMP – young environmental platform (A)
Ruth Riehl, Beatpatrol Festival, VAZ St. Pölten (A) 
Holger Jan Schmidt, GreenEvents Europe, Sounds For Nature Foundation e.V. (GER)
Sun 06 April 2013, 7 pm
GO Group get together – a casual get-together on the pre-workshop evening at Restaurant Griechenbeisl – PDF for more information
Day 1, Mon 07 April 2014, 10 am
Main topics: challenges & solutions
Day one of our 5th international GO Group workshop will deal with different approaches for the solutions of challenges and problems. Speaker from various professional fields – also other than the festival and events industry – will present their approaches. We will use this input to work out smart solutions and views on topics, designs and strategies for the festival and events industry. In the afternoon we will split up in groups and work on tasks and challenges the participants are currently facing.
A welcome to Vienna" – Opening & first round-up
"INFuSE – the traces of cool & sustainable events" by Josef Hackl & Felix Heckl
"FM4 Frequency Festival et al." case study by Harry Jenner
"Introduction into the managment of cross sectoral multi-stakeholder processes: Zukunftswerkstätten, Energy Avantgarde visions and Sunplugged prototypes" by Jacob Bilabel
"Design and Natural Forces – an integrated approach" by Hugh Dutton (architect)
"Putting people in the center – How Design Thinking can help to create innovation " by Manuel Großmann (communication designer)
incl. coffe break and lunch snack
group workshop / breakout sessions
GO Group dinner, 20h at restaurant EF16 hosted by Yourope (the European Festival Association) – PDF for more information
Day 2, Tue 08 April 2014, 9h
Main topics: communication & audience involvement
Day two will concentrate on the communication with the audience and (potential) visitors. We will show examples of good practice and alternative communication tools. Main issue will be the engagement of the visitor. Further, we will discuss environmental education and the stimulation of more sustainable lifestyles. We will split in groups again at the end of the day and work on questions and tasks related to the main topics of the day.
"JUMP – the young environmental platform" by Angelica Rainer
"VAZ St. Pölten & Beatpatrol" case study by Ruth Riel
"Participative design and gamification for festivals" by Andrej Balaz & Hendrik Landwehr
"Creating role models – a Green Team on tour" by Holger Jan Schmidt
"Is there a glass ceiling to behaviour change?" by Teresa Moore
incl . coffe break and lunch snack
group workshop / breakout sessions
To register right away, click here.
More information, also on the GO Group website.
We look forward to seeing you in Vienna!